Thousands Flee Ramadi as ISIL Take Over
As tens of thousands of civilians continue to flee Islamic State (ISIL) militants in the Iraqi city of Ramadi, BBC News talked to some of the people who escaped the fighting and still have family members caught up in the conflict.
Mohamed, 19, is a local tribesman but, fortunately for him, not well-known as many "tribal leaders who couldn't escape were killed" soon after ISIL entered the city.
He says he was taken by complete surprise by the sweeping takeover of the city by ISIL militants last week. When he went to bed on Friday evening, everything seemed to be normal in the city. But by the time he woke up the next morning, he said, "the army had left its positions and ISIL were there in their place".
Ammar is an Iraqi refugee currently in Turkey. His main concern rests with his family, who are currently stuck in the Habbaniyah area. He told the BBC he was fearful for their safety, and has been urging them to consider where they could flee to.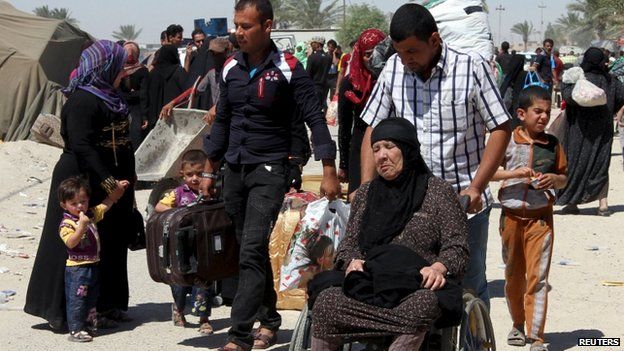 Some 3,000 Shia militiamen have been deployed in a military camp in the area ahead of an attempt to recapture the city. Despite this, life is normal in Habbaniyah right now, says Ammar, who is in regular contact with his sisters and father.
However, his family are planning to leave because the fighting is getting too close for comfort. "They are worried to death and they don't know what to do – they don't have many choices left."
"I left the first hour of the first day Islamic State militants entered the city," he recalls. He has since heard from his former Baghdad neighbours that his home was largely destroyed in bombing by Iraqi government forces trying to recapture the city.
Ammar moved from Fallujah first to Habbaniyah, then onto Baghdad and finally Turkey. In all that time, he says he has not once seen an ISIL fighter. "It feels like we're still running from them."
He says the battle against IS is "not taken seriously – it's like a game of cat and mouse". But, he continues, "I hope and think every game has an end – I just don't know when this will be."
All names have been changed to protect the identity of the interviewees
Pray for Iraq, and the people caught in the city of Ramadi. Pray for protection, safety and for ISIL to be ousted from the city.
Pray for Christian in Iraq, to not lose hope, but to know that they are held under the everlasting arms of their Heavenly Father.
Pray for  peace, justice and righteousness to be restored to Iraq, Syria and across the Middle East.
Isaiah 42 vs 1 and 3: "Here is my servant, whom I uphold, my chosen, in whom my soul delights; I have put my spirit upon him; he will bring forth justice to the nations. A bruised reed he will not break, and a dimly burning wick he will not quench; he will faithfully bring forth justice."
Source: http://www.bbc.com/news. Interviews conducted by Sarah Fowler and Marwa Al-Nagar