Bright Colours Restoring Hope in Homs
The city of Homs in Syria once had a large Christian community and the Christian presence here goes right back to the 1st century. But in February 2012 the increasingly brutal Syrian war reached  Homs, and the Christians fled from the old city. In 2014, government troops regained control of the city, but the destruction is still evident.
Now, however, bright colours adorn the grey walls of destruction, as children and young people have painted one of the streets in this war-afflicted city.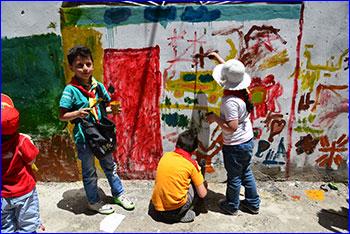 Father Lukas Awad of the Syriac Orthodox Church explained: "The aim is to bring hope and joy back into our city. Young people from our parish had the idea. They invited children from all over Homs. They wanted to bring some joy into the little ones' lives and encourage the parents to return to the old city."
"The young people's aim was to encourage Christians to return to their houses in the old city despite the destruction," Father Lukas continued. "And they were successful in this. Following this project many came back, especially to the painted street."
Dozens of families have since been inspired by this initiative, added Father Lukas.  "And every day one or two new ones join them. After all, the area is safe."
" … The main problems are the major destruction of the houses and the lack of work. Furthermore everything's terribly expensive, including construction material. We, as a Church, do everything we can. Specifically, repairing the dwellings is a matter of priority for us."
But in spite of the progress, there is, as yet, no end to the war in Syria and its dangers. The people of Homs were reminded of this when the terrorist group ISIL conquered the town of Palmyra.
But Father Lukas doesn't despair. "As Christians we trust in God. We must be confident despite the suffering. For our Lord Jesus Christ said: Fear not for I am with you." Father Lukas reports that the people were praying a lot. And the fact that bishops, priests and those in religious orders had never left the side of their communities even in the worst times had strengthened faith in the Church. "We as a Church are doing everything we can to strengthen our faithful spiritually, as well as materially."
Give thanks for the faithful witness of Syrian Church leaders throughout the war, and the work they are doing to help restore the lives of people in Homs and elsewhere.
Pray for the continued restoration of Syrian cities and for an end to the war there.
Pray for the young people and children to continue to find hope through the Church and their faith, and to give hope to others.
Pray for protection for Syrian Christians.
Isaiah 61 vs 4: "They will rebuild the ancient ruins and restore the places long devastated; they will renew the ruined cities that have been devastated for generations."
Source: http://aina.org/news