Attacks on Refugee Camp Could be a War Crime.
An air strike last week on a Syrian refugee camp that killed at least 28 people, including many women and children, could amount to a war crime, according to a senior UN official.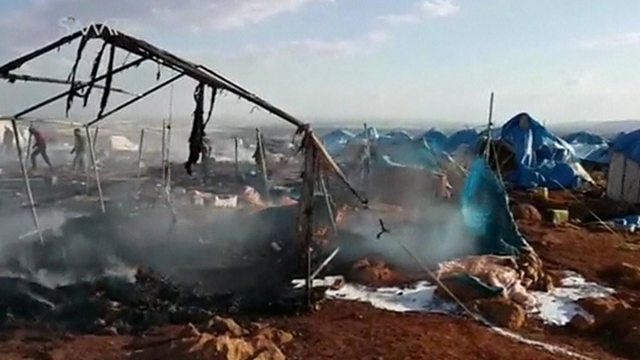 Stephen O'Brien, the UN humanitarian affairs chief, has called for an inquiry into the attack on the Kamouna camp, in the northern Idlib province.
"The suspicion will fall initially on the Syrian government and we will want to make sure that they, or whoever it is, are fully held to account for this absolutely abominable act," Mr O'Brien told the BBC on Friday.
The perpetrators would be held to account, he added.
The Syrian military said there was "no truth to reports … about the Syrian air force targeting a camp for the displaced in the Idlib countryside", Reuters reported.
The Kamouna camp for internally displaced people is about 4km from Sarmada and 10km from the Turkish border.
Thursday's attack came a day after the extension of a truce was confirmed, following pressure from the US and Russia. Both the Syrian military and non-jihadist rebel forces had agreed to a temporary truce around the city of Aleppo for 48 hours.
However, the UK-based monitoring group, Syrian Observatory for Human Rights (SOHR), have since reported an upsurge in fighting between Syrian forces and al-Qaeda-affiliated jihadists close to Aleppo, killing more than 70 fighters from both sides.
Pray for those caught up in the air strikes on the refugee camp. Pray for those who have lost family members, for peace and comfort in the midst of their trauma.
Pray for protection over refugees who have already lost so much due to this war. Pray that they will find places of safety and refuge, where they will also find healing and hope through the love and grace of Jesus Christ.
Pray for the cease fire in Syria to hold, and for all sides of the conflict to be willing to seek a peaceful resolution.
Pray for peace for Syria, and for healing and hope for the future of this nation.
Psalm 10 vs 17 – 18: "O Lord, you will hear the desire of the meek; you will strengthen their heart, you will incline your ear  to do justice for the orphan and the oppressed, so that those from earth may strike terror no more."
Source: http://www.bbc.com/news