At least 37 people have been killed and 181 wounded in two suicide bomb attacks in a residential area of the Lebanese capital, Beirut.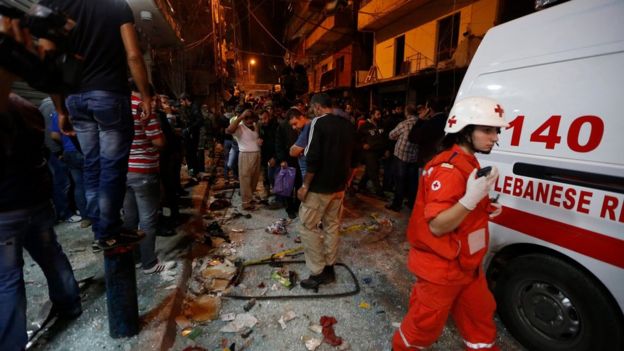 The bombers blew themselves up in a busy street in the southern suburb of Burj al-Barajneh, a stronghold of the Shia Islamist Hezbollah movement.
It is the deadliest bombing in Beirut since the civil war ended 25 years ago, and ISIL has claimed responsibility.
Prime Minister Tammam Salam condemned the attacks as "unjustifiable" and called on Lebanon's rival factions to unite against "plans to create strife".
However, according to Reuters news agency, Hezbollah has vowed to continue its fight against "terrorists", warning of a "long war" against its enemies.
In recent weeks, Hezbollah has sent reinforcements to Syria in support of government offensives in northern areas held by rebel forces or ISIL.
BBC Arab affairs analyst Sebastian Usher says it is no surprise that ISIL has claimed these bombings, but the ferocity of the attack will reawaken the spectre of Lebanon's 15-year civil war.
He adds that, so far, the country – locked in political stalemate and with a crisis over uncollected rubbish  – has managed to hold onto its fragile stability.
Pray for those grieving the loss of relatives and friends in these bombings to find comfort and healing.
Pray for Lebanon, that this violence will not spark another war, but that the government will act with wisdom.
Pray for those who carry out such bombings to turn and find true life and purpose in Jesus and the truth of His gospel.
Pray for peace and protection on countries like Lebanon, who seek to help to counter ISIL.
Psalm 23 vs 4: "Even though I walk through the darkest valley, I fear no evil; for you are with me; your rod and your staff— they comfort me."
Source: http://www.bbc.com/news