Bomb Blasts in Christian Quarter of Syrian Town.
International Christian Concern (ICC) has learned that a coordinated attack on three restaurants in Qamishli, Syria, has left more than 16 people dead and dozens more wounded.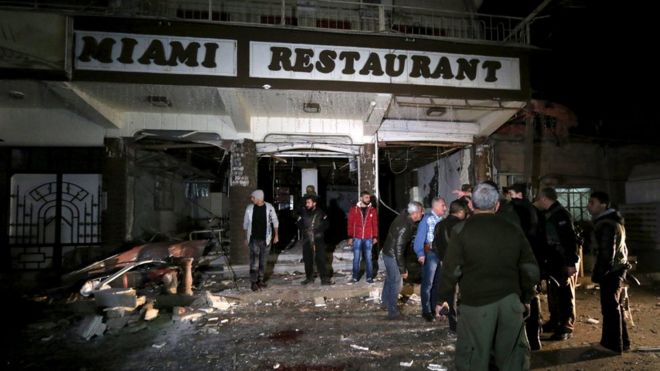 The attacks came in the midst of a week of Christmas celebrations, and targeted a street in the Christian corner of the town that was filled with families out eating and spending time together.
Helma Adde, an Assyrian American recounted to ICC that Aboud, her father's cousin, was sitting in the restaurant with his son and son-in-law when the first of the three bombs exploded. His son-in-law was killed in the blast, his son wounded and still in the hospital as of Wednesday night.
"My father's cousin saw a man walk into the front of the Miami restaurant and pull at his belt and then he exploded," Adde said.
Qamishli sits on the Syria-Turkish border, has been a relative safe haven in the midst of the nearly five-year-old conflict. It has been a place of refuge for Christians and others who've been attacked in neighbouring areas, and is largely controlled by Kurdish and Assyrian militias.
Some accounts linked with ISIS or the so-called Islamic State have claimed responsibility for the attack. While this has not been officially confirmed, it is certainly in line with their past operations in Iraq and Syria, and comes as they have faced increased push-back in Iraq and in Syria.
Pray for the victims of these bombings and their families. Pray for healing, bot physically and emotional, and for peace in the midst of the turmoil.
Pray for protection for Christians in Syria. While may have left the country, more have chosen to remain in their towns and cities. Pray for their witness to their communities in the midst of the chaos of war.
Pray tat many in Syria, including members of ISIL, will encounter Christ is life changing ways, and come to realise the truth of the Gospel of Jesus.
Pray for peace for Syria.
John 14 vs 27: "Peace I leave with you; my peace I give to you. I do not give to you as the world gives. Do not let your hearts be troubled, and do not let them be afraid."
Source: http://www.persecution.org