Buddhist Monks Constructing Pagodas on Church Property in Myanmar.
Seeking to leave a peaceful legacy for the future, Christians in Myanmar are choosing to be patient with an influential Buddhist monk's campaign to build pagodas on church properties.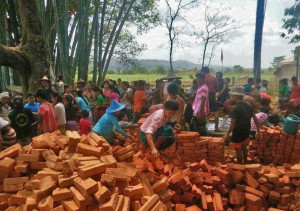 Initially social and news media registered an outcry from Christians when a powerful monk, known as Myaing Kyee Ngu Sayadaw, rallied supporters to build a Buddhist pagoda on Anglican church property in the south eastern Karen state in April.
This was the third Buddhist shrine that he had built on church lands, and, according to Anglican Bishop Saw Stylo, Sayadaw has dreams which show him where to build the pagodas.
"Whenever he gets a dream to build pagodas in any place, he accomplishes it," Bishop Stylo said. "And all the places he has dreamed of are in Christian church compounds. We pray that he doesn't dream anymore of building more pagodas on our Christian properties."
Stylo, who is the bishop at St. Mark Anglican Church in Kun Taw Gyi village, where the pagoda was built, said Christian leaders don't want to inflame religious and ethnic conflicts in a country where a newly-elected democratic government is striving for national reconciliation.
"The new democratic government that came into power is trying for national reconciliation and ending armed conflict," Bishop Stylo told Morning Star News. "If we ignite [religious dispute] while the country is moving forward to a new chapter of the journey, it is likely that we will pass down a bad inheritance to our next generations. We don't want to pass down this kind of inheritance, so we don't respond."
Christians wish peace to prevail, he said, and they also have a faith-based reason for Bishop Saw graciously bearing up under injustice.
"We have to forgive each other," Stylo said. "We can only see God if we forgive. So we always have to keep forgiveness with us."
However, Bishop Stylo also added that, if the new government doesn't take action against the illegal constructions, the menace will likely grow, as Buddhist organisations are among the most powerful institutions in Burma (Myanmar).
Christian Karen people have a long history of persecution in Myanmar, where the government has recognised the special status of Buddhism and promoted it as a means to consolidate support. Myanmar is about 80 percent Buddhist and 9 percent Christian.
Pray for Buddhist monk Sayadaw, that he will seek to respect Church property and not have any further dreams of building pagodas. Pray rather, that he will have dreams and vision of Jesus Christ and come to know the truth of the Gospel.
Pray for Christians in Myanmar, as they face growing hostility from the majority Buddhist communities. Pray for reconciliation between Christian and Buddhist leaders and respect for each other's right to worship in freedom.
Pray for the new government in Myanmar, that their desire for national reconciliation and peace in all areas of the country will be realised. Pray for stability in the government and for protection of the Christian Karen people especially.
Pray for Myanmar as it seeks to find its way as a fledgling democracy. Pray for a move of the Holy Spirit over this nation, for many to hear the Gospel and come to find life and hope through faith in Jesus Christ.
Isaiah 56 vs 1: "Thus says the Lord: Maintain justice, and do what is right, for soon my salvation will come, and my deliverance be revealed."
Source: http://morningstarnews.org/2016, http://www.persecution.org/2016