Church in Turkey a Convenient Target after Coup Attempt.
Since the attempted coup in Turkey on July 15th, there has been a resurgence of Sunni religious fervour. Turkish Imams daily recite the Selah prayer, which is used to announce a death, but is also a rallying call for fellow Sunnis, petitioning them to strengthen their religious resolve.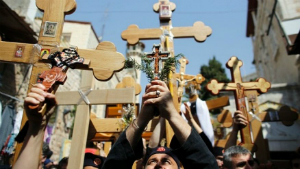 However, this increased resolve is being expressed in militant behaviour, with churches providing a convenient target.
Recently, a Protestant church meeting in a shop-front had its glass smashed out by Turkish protesters loyal to the national regime, a regime that has, up to now, been relatively secular.
However, the President, and head of this regime, knows that Islamic religious fervour is on the rise in his country, and it is a logical move for him to position himself as a friend to the nation's Sunni Muslims.
Mosques in Turkey are also supported by the government, meaning that the Imams share pro-government messages with the people, usually provided by a government agency.
At one time, Turkey was at the heart of the Christian world, and modern day Turkey has long been seen as being moderate. However, the nation appears to be heading towards a more fundamentalist Islam, and Christians are coming under increasing threat as Turks backlash against the coup attempt and all outsiders.
Pray for Turkey in the aftermath of the Coup attempt. Pray for the President and his advisors to make good and wise decisions, and for the future of the country and it's people.
Pray for the Turkish Church at this time of uncertainty. Pray that Christians will not be afraid to meet together, and for the continued growth and protection of the Church in Turkey.
Pray that fundamental Islam will not take hold in Turkey, but for the President to hold true to the constitution and freedom of worship for all people without fear.
Pray that this nation will, once again, resound to the heart beat of Jesus Christ and be a beacon of hope and light for this region.
John 1 vs 4 – 5: "in him was life, and the life was the light of all people. The light shines in the darkness, and the darkness did not overcome it."
Source: http://www.catholic.org/news, http://www.persecution.org