Church Leader Arrested in China.
A prominent Christian church leader has become the latest to be jailed by Chinese courts, during a week of activist trials and public confessions that have shocked international observers.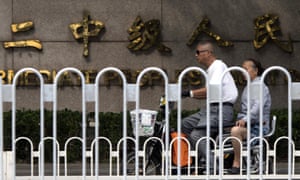 Hu Shigen, a leader of an underground church, was found guilty of subversion, sentenced to seven years and six months' imprisonment and derived of political rights for five years.
Hu has previously spent 16 years in prison for other political offences, including sharing leaflets about China's 1989 crackdown on protesters in Tiananmen Square.
A Chinese court in Tianjin, 60 miles south-east of Beijing, is this week rolling out a string of court sentences against human rights activists and lawyers that observers claim have almost zero credibility.
China claims that those facing trials have all conspired to overthrow the Chinese Communist party. State media on Wednesday said Pastor Hu had confessed to being deeply connected to "foreign anti-China forces", and had conspired with members of the Fengrui firm about "how to get lawyers involved with sensitive incidents". Lawyers from this law firm are amongst those facing trial this week.
Hu's defenders say his main crime was advocating greater freedom of speech and religion, and leading underground Christian churches, which are unsanctioned by the Communist party.
Pray for Pastor Hu that the charges against him will be dropped and he will be released, and likewise for other Christians in prison in China.
Pray too for the charges against other Human rights activists and lawyers to be dropped and for their release from prison.
Pray for the Christians in China as the government continues to crack down on them and the House Church movement.
Pray for the Chinese government to come to recognise the right to freedom of speech and worship in China.
Pray for the ongoing growth of the Church in China, for believers not to be afraid to share their faith with family and friends, and for access to good discipleship material and training for leaders.
Colossians 4 vs 3: "At the same time pray for us as well that God will open to us a door for the word, that we may declare the mystery of Christ, for which I am in prison"
Source: http://www.persecution.org, https://www.theguardian.com/world