A stampede at the annual Hajj pilgrimage in Mecca, Saudi Arabia, has left at least 719 people dead and 863 injured. According to state media, the crush of Muslim pilgrims appears to have been caused by two waves of pilgrims meeting at an intersection.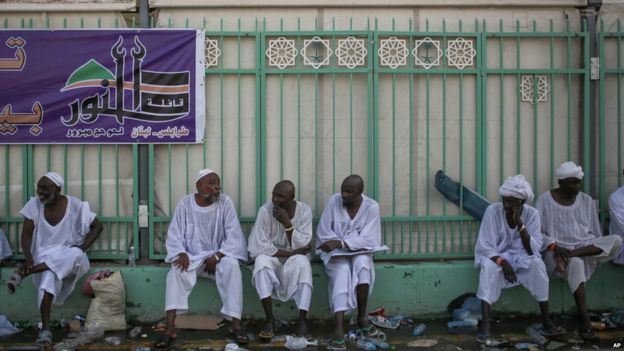 High temperatures and fatigue might also have been factors in the disaster, which is the deadliest event to afflict the Hajj pilgrimage in more than two decades.
The head of Iran's Hajj organisation, Said Ohadi, said that, for "unknown reasons," two paths had been closed off near to where the stampede occurred, at the site of a symbolic stoning of the devil ritual.
Ohadi said the path closures had left only three routes to the area where the stoning ceremony was held.
Al Jazeera's Basma Atassi, reporting from Mina, said the incident took place in a street between pilgrim camps. "During and after the stampede the pilgrims continued to flock into Mina to perform the devil stoning ritual."
Mina houses more than 160,000 tents where people spend the night during the pilgrimage.
Amateur video shared on social media showed a horrific scene, with scores of bodies – the men dressed in the simple terry cloth garments worn during Hajj – lying alongside crushed wheelchairs and water bottles.
About 4,000 people from rescue services were participating in the operation to help the injured and about 220 ambulances were directed to the scene.
Pray for those affected by this tragedy, especially those who have lost loved ones. Pray tat the God of all Comfort will reach down to them and surround them with His presence and love.
Pray for the rescue services and medial staff as they deal with the hundreds of wounded people. Pray for wisdom and compassion and for healing for the injured.
Pray for the Hajj as it continues, for safety for all taking part.
Pray for many pilgrims to encounter Jesus as Lord, and for many hearts to be turned to His life, light and love.
Numbers 12 vs 6: "'Listen to my words: 'When there is a prophet among you, I, the Lord, reveal myself to them in visions, I speak to them in dreams."
Source: http://www.aljazeera.com/news