Diplomatic Crisis Worsens Between Saudi Arabia and Iran.
With the media dubbing the current diplomatic crisis between Saudi Arabia and Iran as "the most dangerous for decades", relations between these 2 countries are at their worst for nearly 30 years.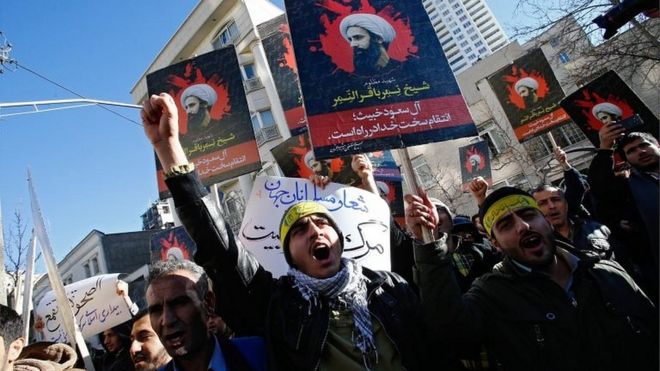 Tensions have spiralled dramatically following the execution of Saudi cleric Nimr al-Nimr, the subsequent setting ablaze of the Saudi embassy in Tehran, and Riyadh's expulsion of Iranian diplomats.
However, the decades-old struggle between Riyadh and Tehran for political and religious influence also has major implications that extend far beyond the Gulf, and encompass nearly every major conflict zone in the Middle East.
Most significantly, this crisis means that prospects for a diplomatic breakthrough in Syria and Yemen now look much more remote, just at a time when international momentum for negotiations seemed to be on the verge of delivering results.
Lost amidst the furore over the execution of Nimr al-Nimr was an announcement that the fragile ceasefire, agreed to in Yemen on 15th December, had broken down.
Neither the ceasefire nor the UN-brokered talks that started at the same time had made much headway, and while the UN talks were due to resume on 14th January, that is now highly unlikely, especially if the Saudi-led coalition and Iran intensify their involvement in Yemen.
A similar outcome may now await the Syrian peace talks, due to begin in Geneva in late January, as weeks of patient behind-the-scenes negotiations to unite the warring parties will come to nothing if the two most influential external parties to the conflict cannot quickly resolve their falling out.
In a call on Monday, Ban Ki-moon, UN secretary-general, issued a statement conveying his concerns to the foreign ministers of Saudi Arabia and Iran.
The statement said that he urged the two countries "to avoid any actions that could further exacerbate the situation between two countries and in the region as a whole".
Pray for the Saudi Arabia and Iran, for the governments to be prepared to talk and seek a peaceful resolution to the current crisis.
Pray for stability in the Gulf region, and for peace for Yemen and Syria.
Pray that the peace talks for Syria will still go ahead, and will reach a solution tat will ring and end to the war there.
Pray for the governments of all countries affected by this current crisis, to act rationally, with a view to peace, not power.
Psalm 22 vs 27 – 28: "All the ends of the earth shall remember and turn to the Lord;
and all the families of the nations shall worship before him. For dominion belongs to the Lord, and he rules over the nations."
Source: http://www.bbc.com/news, http://www.aljazeera.com/news