Literacy Leads to Faith in South Asia
Today, March 8th, is International Women's day, a day when countries around the world focus on celebrating women.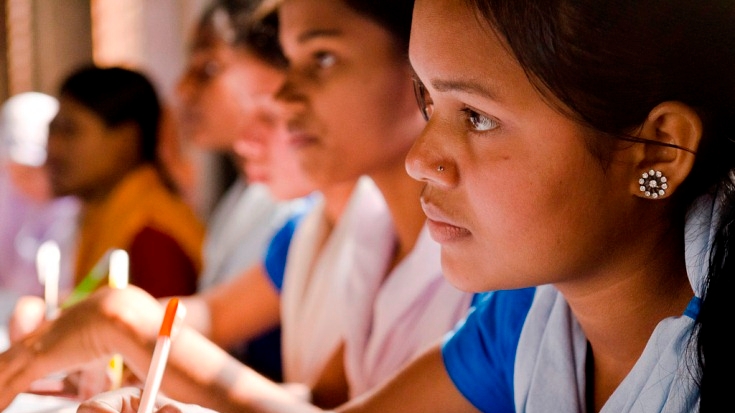 However, in some countries, it is still very tough to be born a girl, with discrimination still rife and the chances of completing any form of education very slim. In fact, in South Asia  boys remain 1.55 times more likely to complete secondary education than girls.
However, many organisations are working to lessen this gap, Gospel for Asia being one of them. This is the story of how learning to read and write changed the life of one young women, Soorat:
"I have a father, mother, one sister and two younger brothers. My father is a labourer, and my mother is a housewife. Due to financial difficulty, I was not able to go to school. I was involved in household chores.
My father was a drunkard. After drinking, he used to come home and quarrel with my mother.  All the money he earned was spent on drinking liquor. There was no peace in our family.
Sometimes, I used to see Pastor Paul [the local Gospel for Asia-supported pastor] and his wife coming to our neighbour's home [to] pray. One day, I called them [to] my home, and they both prayed for me and my family. During the prayer, we all felt peace in our hearts. The pastor also shared the Good News and invited us to the church. Gradually, I started to go to the church and started to trust in Jesus Christ. …
A great desire grew in my heart to know more about Jesus. But without reading the Bible, I could not know more about Jesus.
The pastor's wife told me about a literacy class. I decided to join the class just to learn how to read and write. …
When I started to come to this class, I did not know anything, but I trusted in Jesus. Always, before I sat in the class, I prayed to God for His help. After three months, God Almighty enabled me to read the Bible well. I am also able to write."
As Soorat read God's Word and learned more about Him through the literacy class, she decided to walk with Christ. In addition, her mother and older sister also put their trust in the Lord, and now they join Soorat  to worship the Lord at the local fellowship.
Give thanks for the work of Gospel for Asia, and many other Christian organisations working to improve literacy levels amongst women in South Asia.
Give thanks for those, like Soorat and her family, who come to faith in Christ through being able to read God's word. Pray that many more will be have life changing encounters with Jesus Christ as they learn to read His great story of redemption.
Pray that, as women and girls learn to read and write it will bring positive change to their communities, socially, and spiritually.
Pray for protection for these new Christians, especially as the levels of persecution against Christians is on the increase in South Asia.
Pray for protection for local pastors and workers, as they often face opposition to their work and ministry.
Galatians 3 vs 28: "There is no longer Jew or Greek, there is no longer slave or free, there is no longer male and female; for all of you are one in Christ Jesus."
Source: http://gospelforasia-reports.org/2015