Migrants Continue to Flood into Europe.
Squatting on a kerb, Barakat smiles as a volunteer hands his young son and daughter some second-hand clothes. The family are Yazidis and have fled Iraq. "They were killing all the women – what were we supposed to do?"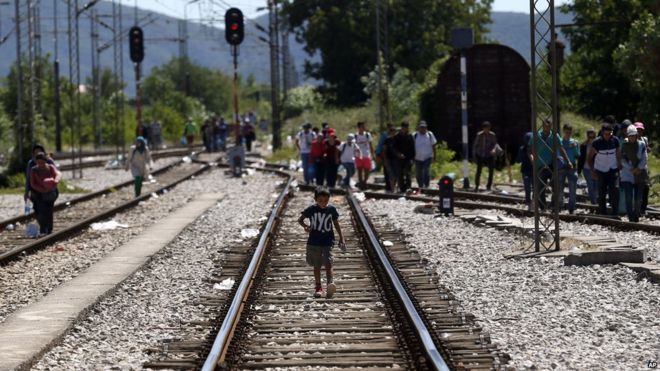 Nearby, hundreds of people queue outside a grey concrete building that is Berlin's reception centre, where refugees come to register for housing and benefits. Every so often an official comes out and shouts instructions through a megaphone, but it is volunteers who are providing food, water, clothing and medical help.
"It shouldn't be volunteers doing this," the official says. "But the authorities never expected this many people to arrive so suddenly."
Already this year, more than 240,000 migrants have crossed the Mediterranean, arriving on the shores of Greece and Italy before travelling on to other destinations across Europe.
Greece has seen record numbers of refugee arrivals this year, with 21,000 migrants arriving on its shores in the last week alone, and around 160,000 having reached Greece since January this year, of which, more than four-fifths are from Syria.
Few – if any – of those who arrive want to stay in Greece, which is reeling from a financial crisis and has an unemployment rate of more than 26 percent.
Instead, they head to Greece's northern border with Macedonia, cross the Balkans and head to more prosperous European countries, particularly Germany and the Scandinavian countries, and Germany is predicting that it could receive as many as 750,000 asylum seekers this year.
Pray for the migrants who risk their lives crossing the Mediterranean Sea. Pray that, in their desperation, they will come to know Christ, His hope, life, grace and love.
Pray for Greece and other European nations struggling to cope with the influx of migrants over the last few months. Pray that they will act with compassion and grace, and with fairness and justice for those seeking a better life.
Pray for the Church in these countries to see the opportunity to share Christ's love with the refugees, and to reach out to them in friendship and compassion.
Pray for a resolution to the conflicts in Syria, Iraq, Afghanistan and North Africa, that causes so many to risk everything on migrant boats.
Deuteronomy 10 vs 17 – 18: "For the Lord your God is God of gods and Lord of lords, the great God, mighty and awesome, who is not partial and takes no bribe, who executes justice for the orphan and the widow, and who loves the strangers, providing them with food and clothing."
Source: http://www.bbc.com/news, http://www.aljazeera.com/news