Thousands of refugees have again camped overnight at Keleti station, Budapest, having been prevented from boarding trains on Tuesday.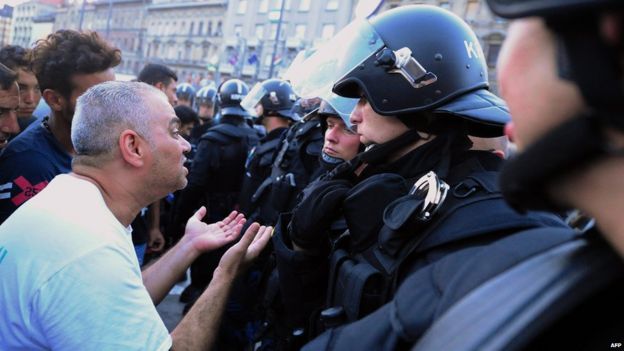 Journalists at the scene said tensions were high with frustrated people waving tickets and demanding to be allowed onto trains.
Police quoted by Hungarian TV said the "illegal immigrants" held their children aloft and demanded they be allowed to proceed freely to Germany.
Many families are trying to decide what to do now. Everyone is asking each other the same question – will they be allowed to carry on their journeys or are they stuck here until their money runs out? People are very frustrated and very angry.
One of the main questions in this crisis is: are these people "illegal migrants" – travelling voluntarily, of their own accord, and simply seeking a better life in Europe?
Or are they refugees – victims of war and persecution, seeking, not just a better life, but simply to live. Life without fear, where they can raise their children, feed their families and walk the streets in peace.
Jesus himself was a refugee. As a baby, his parents fled from the horrors of King Herod's massacre of Jewish boys and He was raised in a strange land as a foreigner and stranger.
He knows and He understands the heart cries of these desperate people.
Can we capture a glimpse of that understanding, compassion and heart ache that the Father has for the fatherless and homeless?
Can we fall on our knees before the very throne of God and lift these precious people before Him, knowing that He hears and He will answer – and believing that, through this crisis, He will be glorified and many will hear the Gospel and put their trust in the Lord.
Pray for the refugees across Europe, that they will find open hearts and open doors to welcome them, and find a place of refuge and peace for their families.
Pray for European countries, and countries across the world to respond to this crisis with compassion, not fear.
Pray for the Church across Europe to respond in love and grace, to be the hands and feet of Jesus, and that many of the refugees will find life, hope and healing through the Gospel of Jesus.
Pray for peace to come to Syria, Iraq and North Africa.
Psalm 68 vs 5: "Father of orphans and protector of widows is God in his holy habitation."
Source: http://www.bbc.com/news