Muslim Refugees in Europe Turning to Christ
One of the more positive aspects of the migrant crisis in Europe has been the number of Muslims from places like Syria and Afghanistan, who have converted to Christianity.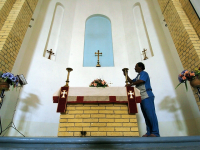 So far this year, 83 percent of the recorded adult baptisms in the Catholic Archdioceses of Vienna have been Muslims, compared to only 33 percent in 2015.
Muslims who convert and leave Islam face a very real threat of violence and even death. Christopher, a Muslim Background believer now living in Austria, told the Kurier, "this could be my death sentence."
Christopher came to Austria in 2012 and requested that his new Christian name be used because he fears not only reprisal against himself, but his family as well.
The Catholic Church in Austria is well aware of what radical Muslims will do to new converts if they are discovered. Muslims consider leaving the Islamic faith to be apostasy, and the penalty for this, according to Sharia Law, is death.
The church informed of threats to parishioners on a regular basis and many MBB's who are new to the faith are, justifiably, reluctant to talk to outsiders.
Christopher, an Afghani refugee, is one of the few who wished to tell his story and his fear over his new found faith. He  relates how he had been interested in Christianity long before he fled to Austria. "A friend brought me a bible from Pakistan. I read it in secret and only at home. But I read it every day," he admitted.
On paper, Afghanistan has freedom of religion and religious expression, but in practice this is very much not the case as, in most areas of the country, strict Islamic law is still adhered to. Christians are especially viewed with deep suspicion and, as Christopher says, "whoever converts, is killed."
Christopher now fears the same attitudes are emerging in Austria, especially among new migrants, and he tries to avoid the Afghan community out of fear.
According to Friederike Dostal, who heads adult baptisms at the St. Stephan's cathedral in Vienna, "In Austria it was once very safe for converts, but that has changed due to the strong migration movement. In refugee quarters it can also be dangerous."
The danger, however, does not deter Christopher from his faith, "Christianity is the true religion,"he declared and said, "there is no turning back for me."
Give thanks for the many Muslims who are turning to Christ across Europe and in the refugee camps of Lebanon and Jordan.
Pray for those who, like Christopher, know that they have found the Treasure worth keeping in Christ, but who live in fear of their lives because of their conversion. Pray for peace in their hearts and minds, for the comfort of the Holy Spirit and for protection for them and their families as they walk in their new found faith.
Pray for churches who are supporting the MBB's, for understanding of their needs and questions, for wisdom and for resources to disciple the may refugees seeking Christ.
Pray for the Holy Spirit to continue to move in the hearts of refugees across the Middle East and Europe, that many more will find hope, healing and life in Christ Jesus.
Acts 16 vs 5: "So the churches were strengthened in the faith and grew daily in numbers."
Source: http://www.breitbart.com/london/2016