Pray for the Hope of Peace in Yemen.
The war in Yemen has all but vanished from the media headlines over recent weeks, but for the 23 million people living in this country, it is still all too real.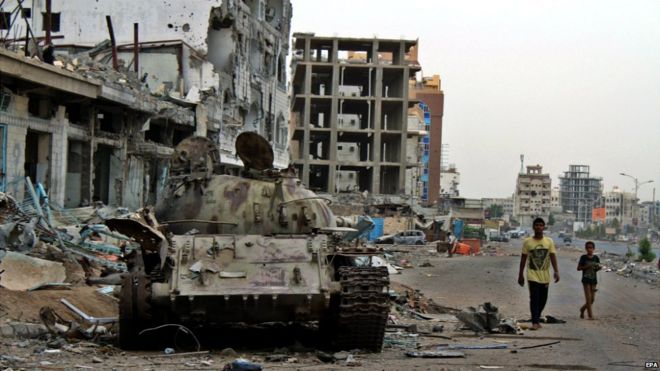 The UN estimates nearly 4,900 people, including 2,355 civilians, have been killed in the conflict in Yemen. This figure includes the more than 500 children who have been killed by the shelling and bombing of civilian areas from both sides of the conflict.
In addition, nearly 1.5 million people have been displaced, with about 13 million people, half of Yemen's population, facing food shortages and 80% of the population needing some form of aid.
Lack of clean water is also a concern, and disease is rife in many communities.
However, in a positive step towards a hopeful end to this conflict, the BBC has obtained a copy of a letter sent to the UN by Houthi representatives, in which they pledge to adhere to a seven-point peace plan brokered by the UN during talks in Muscat, Oman.
The letter follows a verbal commitment to the resolutions issued last month. Addressed to Ban Ki Moon, it commits to the seven Muscat principles, which include a ceasefire, the removal of armed militias from the cities and the return of the government to the capital, Sanaa.
In the letter, the Houthi representatives call the peace plan an "important and fundamental … step towards the resumption of the political process".
"We, from our side along with other parties, commit to these seven points as one unified bundle," it says, adding: "We welcome the UN call for all sides to return to the table of dialogue."
The real test now is to implement the Muscat plan, but even if, at the very least, a ceasefire is reached, that will be a major step for Yemenis enduring this "terrifying violence and extreme hunger".
Give thanks that the Houthis have agreed to the UN peace plan and to working towards its implementation. Pray that all sides of the conflict can work together towards lasting peace for this country.
Pray for the millions of Yemenis caught up in this conflict and struggling to survive. Pray for aid to reach those who need it.
Pray for healing for this war ravaged country. Pray that God will reveal himself to many Yemenis, and that Christians living and working in Yemen will seek to bring the hope of the Gospel of Jesus to all who they meet.
Zechariah 9 vs 10: " … he shall command peace to the nations; his dominion shall be from sea to sea, and from the River to the ends of the earth."
Source: http://www.bbc.com/news