Pray for Turkey after an Attempted Coup.
Following an attempted coup overnight on Friday night by an army group, the Turkish President Recep Tayyip Erdogan was seen in a live TV speech at Istanbul airport, surrounded by cheering supporters, and declaring that the coup attempt was an "act of treason" and the army must be cleansed.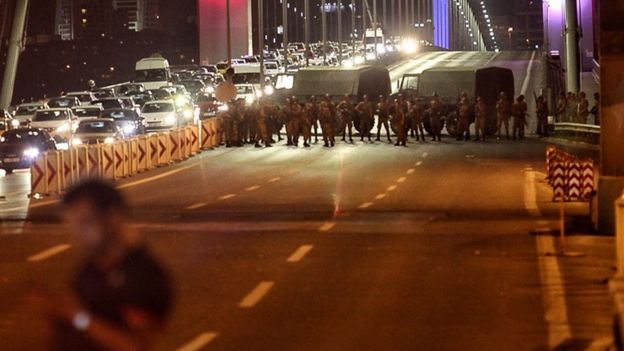 According to local officials, 42 people died during overnight clashes in the capital, Ankara, most of them civilians. However, Prime Minister Binali Yildirim said the situation was largely under control and 130 people had so far been arrested.
Meanwhile, the whereabouts of the military chief of staff, Gen Hulusi Akar, is still unknown after he was reportedly taken hostage by rebel soldiers during the attempted coup.
Reports also say that rebel soldiers in some areas have been surrendering their weapons to police loyal to the President.
Istanbul's main Ataturk airport is now under army control, and flights, which had been delayed for some hours, were due to resume from early yesterday morning.
It is unclear who was in charge of the attempted coup, nor how much support it has from the general public. The break away army group earlier declared that a "peace council" now ran the country and there was a curfew and martial law. This, however, has been steadfastly denied by the President.
Pray for Turkey at this time of uncertainty. Pray for peace on the streets, for wise decisions by both political and military powers, and for a peaceful resolution to the attempted coup.
Pray for Turkey as it also grapples with the ongoing crisis in neighbouring Syria. Pray for compassion for refugees, and for political stability at a time of uncertainty on its borders.
Pray for the Turkish Church, for protection, and to continue to grow in strength and numbers, and to witness to God's grace and love in their communities and homes.
Pray for peace and stability across this region, and for the Holy Spirit to draw many to know Him.
1 Timothy 2 vs 1 – 2: "First of all, then, I urge that supplications, prayers, intercessions, and thanksgivings should be made for everyone, for kings and all who are in high positions, so that we may lead a quiet and peaceable life in all godliness and dignity."
Source: http://www.bbc.com/news