Prayer Requested After Attack on Yemen Care Home
Christians in the Arabian Peninsula, along with Middle East Concern, are asking for prayer following an attack in Yemen on 4th March. The attack was on a care home operated by the Sisters of the Missionaries of Charity, the Catholic community founded by Mother Teresa of Calcutta.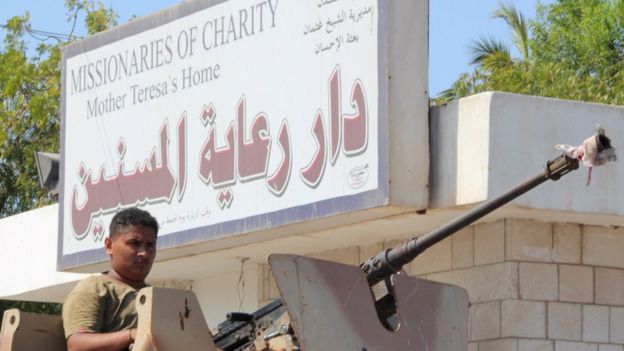 According to reports, at least 16 people were killed when a group of gunmen attacked the care home for the elderly and disabled in Aden. The Apostolic Vicariate of Southern Arabia confirmed that the dead include four Missionary Sisters (two from Rwanda, one from India and one from Kenya) and several of their helpers, including at least five from Ethiopia.
It is understood that no members of the community served by the sisters were harmed, and the Superior of the Convent was also unharmed. However, there is growing concern for the safety of the Indian Salesian priest whose whereabouts is currently unknown.
No group has yet claimed responsibility for the attack.
On 9th December 2015 the Church of the Immaculate Conception in Aden suffered severe damage when explosives were detonated by militants. The church had last been used in March 2015.
The context of these attacks is one of ongoing warfare and humanitarian disaster in Yemen. Aden was recaptured from Houthi militants by forces loyal to President Hadi in July 2015, though conditions of lawlessness prevail in which extremist groups, such as Al-Qaeda, in the Arabian Peninsula are very active.
Pray for the families, friends and colleagues of those killed in this attack, that they will know the comfort, presence and peace of Jesus.
Pray for Christians in Yemen to know the Father's protection and the Spirit's guidance in every aspect of their life and witness.
Pray for those who carried out the attack, that they will know the Spirit's conviction  and seek the Father's forgiveness for the killings, and find new life through the Jesus Christ.
Pray for peace and justice to be restored in Yemen, and that humanitarian aid will reach all who are in need.
Proverbs 31 vs 9: "Speak out, judge righteously, defend the rights of the poor and needy."
Source: http://www.meconcern.org/en/prayer-requests