Refugee Crisis in Mediterranean Sea Far From being Over
During the course of Thursday, the Italian navy and coastguard reported that they rescued about 4,500 migrants from dozens of small boats in the Mediterranean in just one day.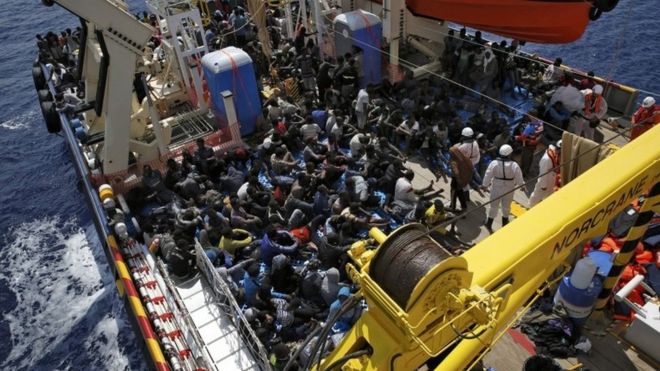 More favourable weather conditions have resulted in a major increase in the number of people leaving north Africa to attempt the crossing to Italy. Many of the unseaworthy boats were spotted about 40km (25 miles) from the Libyan coast.
"We saved a total of about 4,500 people in about 40 rescue operations," a coastguard spokesman told AFP news agency. He added that the operations were continuing and the number might still rise.
An agreement earlier this year between Turkey and the European Union to halt migrants from travelling to Greek islands has reduced boat arrivals by 98% during the first five months of the year, compared with the same period in 2015, according to the International Organization for Migration (IOM).
However, arrivals in Italy continue at about the same rate as last year and many more were expected to attempt the crossing over the summer months.
Pray for the refugees and migrants seeking to make this crossing to Europe. Many are leaving persecution, oppression and poverty in their home lands. Pray that they will hear the message of hope and love through the Gospel of Jesus Christ and come to faith and life through Him.
Pray for political reform and an end to persecution and poverty that drives so many to attempt the dangerous journey to Europe. Pray for nations in the Middle East and Africa to be transformed by a move of the Holy Spirit blowing across these lands.
Pray for those who reach Europe, that they will be welcomed by Churches and find healing and hope through Christ Jesus.
Pray for wisdom and compassion for governments in Europe and around the world in dealing with the refugee crisis that shows no signs of abating.
Zechariah 7 vs 9 – 10: "This is what the Lord Almighty said: "Administer true justice; show mercy and compassion to one another. Do not oppress the widow or the fatherless, the foreigner or the poor."
Source: http://www.bbc.com/news