Rise in Persecution of Chinese House Churches
Over the last few months, there has been a worrying increase in persecution of house churches in China, the latest report being from the south-western province of Yunnan, where authorities have ordered a house church with more than 20 college students to stop meeting and to turn in information about the students.
According to Qiao Nong, China Aid's special correspondent in Hong Kong, around eight officials from the Pu'er City Religious Affairs Bureau and the United Front Work Department interrupted the Church's Sunday worship service on 31st May, ordering the Christians to stop meeting.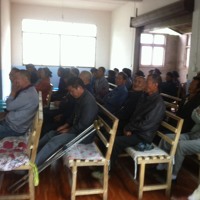 The Pastor, Zhu Hewen, was ordered to report to the Religious Affairs Bureau the next day with a list of the names of the church members.
"The purpose of [asking for] a list of the college students' names is to put pressure on the school president, students or parents, [to let them know that] students are not allowed to believe in Jesus," said Pastor Zhang Mingxuan, president of the Chinese Christian House Church Alliance. "This is a form of persecution directed at young people and students. I pray for them."
Pastor Zhu did report to the religious affairs bureau the next day, but did not produce the list of church members. He was told once again that his church meetings were illegal because his Church was not registered.
Beijing house church pastor, Liu Fenggang, told China Aid that there is ongoing persecution of Christians in coastal Zhejiang province and in parts of North West China, where students are forbidden to have religious beliefs. Also, in the north east of China,  some church members have been thrown into prison.
"The Communist Party believes that foreign anti-Communist forces are using religion to open up a wedge, so they are exercising especially strict control over Christianity," he said.
Pray for China, a country where Christianity is growing, but where Christians are not free to worship or share their faith.
Pray for the Chinese Church, to continue to grow, and for protection for it's members.
Pray for Chinese students and Christians working with them, that many will come to know Christ, even in areas where this is forbidden.
Acts 16 vs 5: "So the churches were strengthened in the faith and grew daily in numbers."
Source: http://www.chinaaid.org, http://www.persecution.org