South Sudan Pastors Arrive Home
Two South Sudanese pastors arrived home from Khartoum, Sudan, on 19th August, after an eight-month ordeal of imprisonment, fabricated charges of capital crimes and a ban on leaving the country.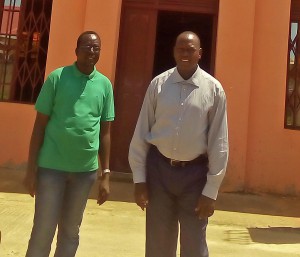 The Rev. Peter Yein Reith and the Rev. Yat Michael were acquitted of the crimes calling for the death penalty on 5th August, but were prevented from boarding a plane out of the country the next day. Sudan's notorious National Intelligence and Security Services (NISS) had ordered the travel ban when they were initially detained, but this was not made known to the pastors or their lawyers until they tried to leave.
Since then, lawyers for the two pastors have been working for the ban to be lifted, but it was still not clear how they were able to leave the country last week.
On arrival in their home town of Juba, South Sudan, Michael and Reith were transported  to a church where they were welcomed home and attended a thanksgiving service.
"[We] thank God for their arrival home," the wife of Michael told Morning Star News after the service.
Harassment, arrests and persecution of Christians have intensified since the secession of South Sudan in July 2011, when Sudanese President Omar al-Bashir vowed to adopt a stricter version of sharia (Islamic law) and only recognise Islamic culture and the Arabic language.
Give thanks for the safe arrival home of Pastors Michael and Reith.
Pray for them as they adjust to being home, and for continued protection for them and their families.
Pray for Christians across Sudan, as they face increasing levels of harassment and persecution.
Pray for the spread of the Gospel in Sudan, that many will come to know the truth of Christ and His Gospel of Life.
Psalm 28 vs 7: "The Lord is my strength and my shield; in him my heart trusts; so I am helped, and my heart exults, and with my song I give thanks to him."
Source: http://morningstarnews.org, http://www.persecution.org