Five years ago today, on 15th March 2011, the first moments of upheaval in Syria were fleeting and furtive, small but significant.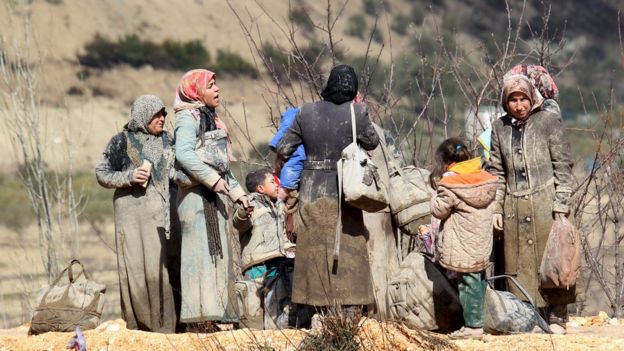 Young women unfurled protest banners from their handbags on a busy Damascus street, then quickly retreated, and teenage boys sprayed graffiti on a school wall in the southern city of Deraa.
Five years on,however, and Syria's uprising is now the longest and most vicious conflict to grow out of this, poetically depicted, "Arab Spring".
Many of those young activists who first raised their voices to call for political reform are now disenchanted, detained, displaced or dead. Their cries have long since been drowned out by the deafening roar of a destructive war, which has set a multiplying array of opposition forces against the Syrian army and its militias.
On both sides, there is the most bewildering number of outside participants ever seen in any war, anywhere. And then there is ISIL, making the most of this country's current political vacuum.
Syria's war is now everyone's war, and everyone has paid a high price.
At times over the last five years, there was a massacre almost every week. Every weapon has been deployed, no one spared: neighbourhoods wiped out, chemical weapons unleashed, even children tortured.
One of the most powerful weapons in this war has been its simplest: food. Fighters from all sides have cut off supplies of food, water and medicine in their quest for power, leaving civilians starving and dying in the streets.
Five years on, and there is a rare, if fragile, truce, only because outside players finally decided to give peace a bit of a chance. However, defiance and distrust are undiminished.
Syria is a totally different country now. Millions have fled with their children to try to begin a new life elsewhere.
But Syria isn't lost yet. Somewhere in between a regime and a revolution a new Syria, with remnants of its old self, could still emerge from these ruins – but only if this war stops stealing its future.
Pray for Syria. Five years of war have decimated this country, leaving towns and cities uninhabitable and displacing millions of people. Pray for healing for this nation, for lasting peace, for resources to rebuild and for healing and hope for Syria's people.
Pray for the peace talks starting this week. Pray that all sides will be willing to attend the talks and for good negotiations to lead to agreement on the future government of Syria.
Pray for forces not involved with the peace talks or cease fire, including ISIL to also be willing to halt hostilities and seek a peaceful solution for this nation.
Pray for Syrian Christians, who are often targets of hostility, to be witnesses of peace, hope and healing to families and communities across this nation. Pray that many will come to know Jesus, His life, truth and love.
Zechariah 9 vs 10: " … the battle-bow shall be cut off, and he shall command peace to the nations; his dominion shall be from sea to sea, and from the River to the ends of the earth."
Source: http://www.bbc.com/news