Turkey Mourns Bomb Victims
Thousands of people have attended a rally in Ankara under heavy security to remember the people killed in twin bombings in the Turkish capital on Saturday. the death toll is thought to be at 95, though unofficial figures put it at over 100.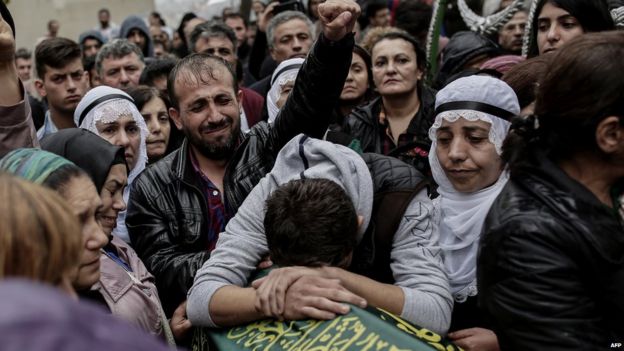 Sunday's demonstrators filled Sihhiye Square in central Ankara, close to the site of Saturday's bomb blasts outside the city's train station. Many people at the rally were shouting anti-government slogans.
The rally was called by labour unions, leftist groups, NGOs and the pro-Kurdish Peoples' Democratic Party (HDP) – the same groups that had called the first peace rally that was targeted in Saturday's attack.
Sinan Ozsaygin, a metal worker who lost a good friend in the attacks told Al Jazeera: "I just don't know what to say – I have no words … How can anyone carry out this kind of massacre? We adamantly demand peace. Who exactly fears peace? If anybody should fear anything, it should be war, not peace."
Gonul Kural, a teacher who was at the rally the day before when attacks happened, said she was worried more attacks may happen, adding, "I am afraid but one thing we know – the more we fear, the situation worsens in this country. Today we have to fight if we want to leave a better future for the next generation."
Two senior officials told Reuters news agency that initial signs pointed to ISIL being responsible for the bombings, though no organisation has, as yet, claimed responsibility.
Pray for Turkey, as it has faced an upsurge in violence over the last few months. Pray for peace on the streets and in people's hearts.
Pray for those who are mourning the loss of family and friends in the bomb attacks. Pray that they will find comfort and healing, and come to know the "God of all comfort" through Jesus.
Pray for the Turkish Government, at a time of relative instability and approaching new election in November. Pray for good and wise decisions in dealing with protests and demonstrations.
Pray for the upcoming elections, especially in the light of increased violence and the continued conflict with the Kurds.
Pray for the Turkish Church to be a voice of peace, reconciliation and hope tat will be heard and listened to by many across this nation.
Isaiah 45 vs 22: "Turn to me and be saved, all the ends of the earth! For I am God, and there is no other."
Source: http://www.aljazeera.com/news